We're starting to hear more about Xbox Series X games as the next-gen console's launch date creeps ever closer.
Faster and capable of more advanced graphics than its predecessors, Microsoft's next-generation hardware promises to be the most powerful games console in the world when it launches late in 2020 – even more so than the PS5, which is expected to hit shelves around the same time.
Microsoft has been slow to announce exclusive launch titles for the console given its release is still a while off, but it has been more forthcoming with its plans for backwards compatibility and cross-generational potential. In February, Microsoft revealed a bit more about the Series X's high-powered specs, its plans for four generations of backwards compatibility and something called Smart Delivery – which will apparently make sure your Xbox games always perform at their very best, whether you're playing on next or current-gen.
Release confirmations and suggestions from third party developers are also starting to trickle out. But we still don't know a huge amount about what games are coming to Xbox Series X and, if you're thinking about signing up for the next Xbox, then you'll want to keep track of what titles you might be playing.
So without further ado, we've gathered together this handy guide to all the Xbox Series X games Microsoft has confirmed – and some that we expect to see.
Halo Infinite
..is was the first title that Microsoft confirmed for Xbox Series X – so we definitely know Master Chief is making the jump to the next-generation console.
Not only that, but Halo Infinite will be a launch title for Series X, releasing in Holiday 2020 alongside the console (or consoles). It's not particularly a surprise, considering Master Chief has served as the face of Xbox for nearly 18 years…
According to Microsoft, Halo Infinite (like all exclusive Xbox game Studios titles) will use the new Smart Delivery feature. That means you only have to purchase the game once, and you'll have the access to the best available version for whichever Xbox console you choose to play on.
The Master Chief finally returns in Halo Infinite – the next chapter of the legendary franchise beginning holiday 2020! Developed by 343 Industries for the entire Xbox family of devices, including Project Scarlett and Windows PCs, Halo Infinite continues the Halo 5: Guardians storyline and takes the franchise in ambitious and unexpected directions, powered by the all-new Slipspace Engine.
Warframe
Leyou Technology, parent company of Warframe developer Digital Extremes, has revealed that its
free-to-play online sci-fi shooter Warframe will be coming to PS5 and Xbox Series X. In an earnings report by Leyou Technology, the company stated that it's "preparing to expand Warframe to more platforms, such as the next-generation consoles and other devices".
However, there's no indication of when Warframe will land on PS5 or Xbox Series X. It definitely will though so just wait, take the wheel, man the guns, fight the fires — everyone has a role to play. Organize an away team to board ships, gather wreckage and explore drifting ruins, all while keeping your Railjack in fighting condition.
Rainbow Six Siege
Rainbow Six Siege director, Leroy Athanassof, has confirmed in an interview with Windows Central that Ubisoft's plan is to have the online tactical shooter be available on Xbox Series X from the console's launch day.
Ubisoft doesn't want players to face being split up from their friends just because some have jumped into the new generation when others haven't so it's also been confirmed that the game will support cross-gen play. That means Xbox Series X players will still be able to play with the Xbox One friends.
Rainbow Six Siege's primary mode is five-on-five objective-based multiplayer, with each team either defending or attacking an objective. But you don't just get thrown in and shoot one another willy-nilly. Every round opens with a planning phase, in which the defending team uses character abilities and resources (wall reinforcements, barbed wire, traps, explosives) to slow down, distract, or destroy the enemy team's encroachment. During this phase, the attacking team sends in tiny remote control drones to sneakily survey the defense. Holding down a button marks the last spotted position of defending players, while other defensive structures are communicated over voice chat. While this is happening, each team is ideally coming up with a strategy.  I can only imagine the amount of improvement that will come about from the use of the series x with this story.
The Lord of the Rings: Gollum
Announced in March 2019, Daedalic's Gollum game has now been confirmed for PS5 and Xbox Series X.
The developer confirmed to Edge, that The Lord of the Rings: Gollum will be a "stunning next-gen adventure". Previously Daedlic confirmed Gollum will release in 2021 for PC and "all relevant console platforms at that time". Whether the game will be cross-generation (releasing on PS4 and Xbox One also) is still unconfirmed however.
But what will the game actually be about? Gollum is an action-adventure which focuses on the ring-obsessed creature. According to Daedalic, the narrative-driven game"tells Gollum's story from a perspective never seen before … while staying true to the legendary books."
The Lord of the Rings has seen its fair share of video game adaptions, from the tactical strategy of Battle for Middle-Earth to the warring nemesis system of Shadow of Mordor. Yet Lord of the Rings – Gollum is a different beast entirely, a narrative-focused title centered around the iconic character.
Developed by Daedalic Entertainment, known for Deponia and The Chronicles of Shakespeare, the title puts Gollum at center stage for the very first time, although the character isn't based on his film appearance or interpretation. So this may see a slide as far as popularity in the population that enjoyed the halfling's pursuit of his precious.
Watchdogs: Legion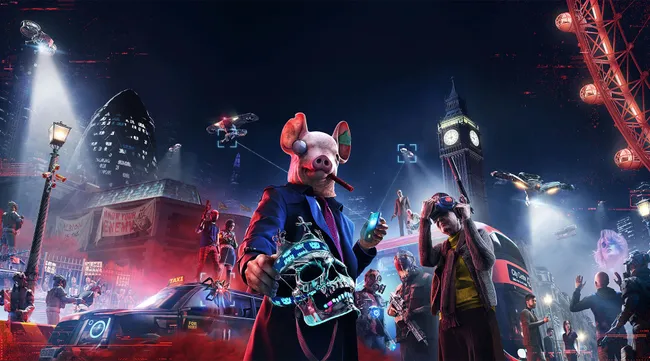 Watch Dogs Legion, the third in the Watch Dogs series, will take place in the dystopian near-future. As with previous Watch Dogs games set in Chicago and San Francisco, Legion will be set in the fictional version of a major city. This time around, we're headed across the pond to London in order to, as creative director Clint Hocking told Famitsu, approach problems in other parts of the world. London after Brexit, that is, so not too fictional nor too futuristic.
Unlike previous Watch Dogs games, Legion brings a neat twist: Every character in the game is a potential protagonist for you to recruit to your cause. Each comes with their own traits and skills that you can use before hopping into another member of your budding resistance movement.
Ubi shared a solid chunk of gameplay during its press conference to show off how different types of characters can be recruited and operate. We also went hands-on with Watch Dogs Legion and came away massively impressed.
Of course, the titles listed above are just a few of the known releases but there are many more.  Personally I cannot wait for the release of Elder Scrolls 6, GTA6, and the remake of Final Fantasy 7 which was a staple during my initial introduction into intensive RPG games.